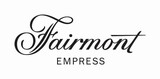 Reporting to the Executive Sous Chef; and working in partnership with the Executive Chef, you will be responsible for the creative direction and execution of the restaurants. Q at the Empress, Q bar, In Room Dining and the Veranda.
You will design menus that reflect the Fairmont Empress' position as leader in Pacific North West cuisine. Working with the local farmers, fishers and culinary artisans of Vancouver Island, you will curate on brand and trend setting culinary experiences for local and in house guests.
Lead the day to day operations of the a la carte kitchens, through an active presence on the floor, leading your teams to deliver service excellence
In collaboration with the other culinary leaders; oversee the entirety of the culinary and stewarding departments. Banqueting, Afternoon Tea, Garde Manger, Fairmont Gold, Staff Cafeteria and 'Empress at Home' to go programs.
Effectively participate in managing the departmental budget through purchasing, inventory management, pricing, and labour cost
Drive revenue and profit through the development and implementation of menu design, strategies, practices and promotions.
Maintain food safety and sanitation of the kitchen, through industry leading food safety protocols.
Highly involved in sourcing products and building relationships with local vendors
Represent the Empress at external events
Collaborate with other departments to ensure effective operation of the hotel, and exceptional guest experiences
Train and lead the culinary team, ensuring they have the skills, training and tools to deliver world class culinary experiences
Take an active role with FOH leaders to ensure service colleagues are knowledgeable about the menu and can speak with guests comfortably about menu items, ingredients, and techniques.
Personally engage with guests in the restaurants, ensuring exceptional culinary experiences
Take initiative to ensure guest satisfaction metrics are met or exceeded, responding personally to guest feedback
Participate in the recruitment and onboarding of new colleagues
Promote the growth and development of internal talent
Pro-actively participate in colleague engagement initiatives
Active role engaging in Social Media and PR activities by promoting our restaurants within the community, on social media and the press
Lead the kitchen in the absence of the Executive sous Chef
Adhere to all Company policies, procedures and values
Other duties as assigned
Requirements:
This position is ideally suited to the individual who has a demonstrated progressive work history, is ambitious and career minded. With the goal to grow with Accor Hotels, and become an Executive Chef in the future.
Minimum of 5 years' experience in a Senior Sous Chef, Restaurant Chef or Chef de Cuisine role. A combination of both standalone restaurant and luxury hotel experience is an asset.
Demonstrated passion for cuisine, guest experience and colleague engagement
A strong understanding of local food products and culinary tends
Experience managing in a unionized environment is considered an asset
Food Safe level 1 or VIHA recognized equivalent certification
Interprovincial Red Seal or equivalent certification
Proven organizational skills; managing in a busy multiple outlet environment
Self-motivated, detail oriented and well organized, Excellent work ethic with a high degree of responsibility
Excellent oral and written communication skills
Computer literate; well versed in Microsoft Office applications
Proven ability to work in a fast-paced, customer service driven environment
A team player with the ability to train, coach, build relationships and motivate employees.
Practical understanding of productivity and labour cost
Versed on calculation of food cost; Experience with conducting food inventories and understanding of inventory turn-over
Understanding of safe work practices and initiatives to reduce or eliminate accidents
Proven ability to drive revenues and profit, without sacrificing colleague and customer experiences
Strong interpersonal and problem solving abilities
Ability to taste all food products
Ability to physically perform the duties of the Restaurant Chef
Additional Details:
Must currently have the legal ability to work in Canada, work visa sponsorship is not available for this position.