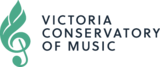 The Victoria Conservatory of Music
Founded in 1964, the Victoria Conservatory of Music (VCM) has earned an outstanding reputation for excellence in teaching. As a music school for the whole community, the VCM welcomes students of all ages and musical abilities. We have four outstanding areas of music programing: The Chwyl Family School of Contemporary Music; The Ann & George Nation School of Classical Music; Department of Post-Secondary Studies (in partnership with Camosun College); and The School of Music Technology & Creativity. We are also home to the renowned Department of Music Therapy and the Department of Early Childhood Music Outreach.
We are a great place to work
We are a small, supportive Development Team who work together to meet our annual and long term strategic fundraising goals. We enjoy the privilege of hearing musicians from all around the world in our halls, stewarding and meeting with our donors to attend student concerts and performances with visiting master musicians, and working with an organisation that is renowned for excellence in teaching.
You will be part of an experienced, creative team who work closely with VCM faculty, students, and our donors to bring the power of music to our community.
We offer employees 15 days holidays, HSA Dental, and RRSP Matching program and employee parking space.
The Position
The VCM are seeking a permanent, full-time experienced Manager, Donor Relations. This individual would have a solid background in fundraising techniques and practices and experience working for a not-for-profit, a personable self-starter, genuinely interested in cultivating and introducing new people to the work and the value of the VCM in our community, and will be proactive in advancing and expanding the VCM fundraising program.
Reporting to the Director of Development, and working in close collaboration with the VCM team, the Managers' primary responsibilities include writing the VCM's annual direct mail appeal and other donor communications, growing the Encore Legacy Society program, expanding the VCM's donor base, managing a portfolio of donors and prospective donors, creating funding proposals for projects and programs in line with major gift fundraising goals, making applications to family foundations and identifying new income sources.
The Ideal Candidate
A self-motivated, creative team player
Exceptional writing and communications skills, accomplished at adapting messages and communications to different audience groups
Flexibility to adapt and work in a busy evolving organization
Comfortable working at all levels in the organization and in the community including with the CEO, the VCM Board, Faculty, students, donors and people in the community
Professional relationship management skills, attention to detail and organizational skills,
Strong background in achieving results and meeting and exceeding goals
Knowledge and appreciation of music would be an asset as well as an awareness and familiarity of the city and arts organizations in Victoria.
Skills & Responsibilities
Post-secondary degree or CFRE, with experience in a charitable organization
Demonstrated success working with high level donors and securing major gifts
Exceptional writing and communications skills
Demonstrated knowledge of legacy giving
History of successful relationship cultivation with volunteers, donors, prospective donors.
Excellent networking, presentation and interpersonal skills, including ability to engage with donors at events
Superior organization skills and exceptional attention to detail
Strategic thinking, tactical planning skills and moves management skills
Strong project skills, with proven ability to prioritize and manage timelines
Working knowledge of CRM database systems and keeping up to date records with detailed notes and actions
Clear understanding of and strict adherence to ethical fundraising standards
Ability to work flexible hours (some evenings and weekends) and accommodate occasional unplanned requests
Passion for the Victoria Conservatory of Music's vision, mission and goals
Valid BC Driver's License and road worthy and insured vehicle
Salary Range: $58,000 to $68,000
Application Deadline: February 14th, 2022
Start Date: March 7th, 2022
We would like to thank all applicants in advance for submitting their applications. Please note, only those candidates chosen to continue through the selection process will be contacted. Please submit a resume and covering letter, plus examples of your work on either direct mail appeals, fundraising proposals, or other examples of your writing skills to: myhr@vcm.bc.ca