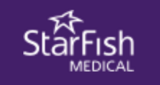 Administrative Assistant, Product Development
As an Administrative Assistant who has been seeking a new and exciting opportunity, we know that you've looked at a lot of job ads. This one, the Product Development Administrator at StarFish Medical in Victoria is different and we want you to know why.
You'll be at the very center of a passionate and committed team of engineers and designers who are building amazing medical device technology that improves the quality of life for millions of people. You are the glue that holds this talented team together with your ability to keep everyone and everything on track. You are smart, resourceful and when you take something on, you see it through to completion and as a result, you are the go-to person the team counts on. Your upbeat personality and sense of humor helps build relationships quickly creating an environment that is enjoyable and productive.
You will enjoy this dynamic, fast-paced and challenging environment where you will get to flex your communication and organizational skills to communicate with individuals at all levels of the organization.
StarFish Medical also offers the Product Development Administrator:
Award winning culture with deep-rooted Guiding Principals
Competitive compensation
Team profit sharing program
Excellent company-paid benefits package
Paid vacation and sick leave
Monthly All-hands meetings
Active social committee
50% BC Transit cost sharing in Victoria
Galloping Goose access and shower facilities for midday runs or biking to work
Salary Range $42,500 - $52,000
Your day may include:
Collecting, organizing, processing, and analyzing all the data that tracks the time, costs, etc. that go into building the lifesaving medical devices at StarFish.
Creating effective documents and departmental reports, in consultation with other team members and based on outlines provided or a goal description of the document.
Organizing and maintaining the calendar of the Director of Product Development and overseeing the calendars for the Product Development Functional Managers, providing reminders and scheduling assistance when requested.
Building, sharing, and implementing process improvements (this will be highly valued by the team!).
Receiving and organizing all Product Development timesheets for signature by the Director Product Development, ensuring a smooth, timely process for the accounting team.
Scheduling recruitment interviews and candidate follow up, acting as the communications and HR liaison for the Product Development team.
This is just a sampling of what your day may hold, as every day is a little different
Qualifications and Abilities of the Product Development Administrator:
2 Years of experience in an administrative or support role is required.
Experience working in a fast-paced, dynamic environment is required, with experience in a high tech and/or product development environment considered an asset.
Advanced MS Office Suite skills specific to creating and maintaining Word templates, working with Pivot tables in Excel, including the ability to manage multiple calendars and resources in Outlook is required.
Strong verbal and written communication skills and the ability to build and foster productive relationships.
Process improvements are both a skill and passion for you, as you thrive on making something better.
Application Instructions:
To apply, visit: https://starfishmedical.com/jobs/administrative-assistant-product-development/